Mild Sweet Chili Sauce 10 oz Bottle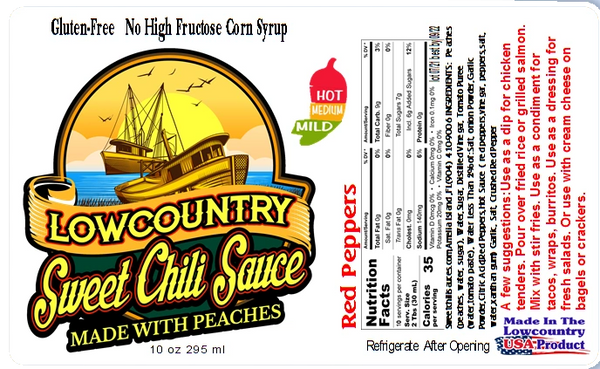 Mild Sweet Chili Sauce 10 oz Bottle
We sweeten Lowcountry Sweet Chili Sauce with peaches. No high fructose corn syrup here.
It's available with red chili peppers (mild) or ghost peppers (hot).

Lowcountry Sweet Chili Sauce can be found in stores in Savannah,GA as well as St. Augustine
and Jacksonville, FL.  It's The BEST Dip, Glaze, Marinade and Salad Dressing all in one.
What goes BEST with Lowcountry Sweet Chili Sauce?
This sweet chili sauce is an old Lowcountry recipe that has been passed down for
several generations and goes with just about anything. Here are but a few suggestions:
chicken tenders, fried rice,
mozzarella sticks, salmon cakes, stir fries, seafood kabobs,
clam fritters, crab cakes, tacos, wraps, burritos, pasta salad, fresh spinach salad,
or just mixed with cream cheese for crackers or bagels.